A tremendous amount has been going on behind the scenes of Copac for quite a period of time now.  Like everyone across the sector we're working at what feels like full tilt  —  tackling multiple projects, and figuring out as a team how to juggle and prioritise it all.  We're undertaking quite a few JISC innovations projects, including the work with developing a shared service prototype for a recommender API based on aggregated circulation data, a considerable amount of effort is being invested in the Copac Collections Management project, we've been collaborating with our colleagues across the office on Linked Data research and development, working closely with the Discovery initiative, and our developers (namely Ashley Sanders) have just about cracked the new database design and algorithms that will address some of the major duplication issues we are currently challenged with as a national aggregator of bibliographic records.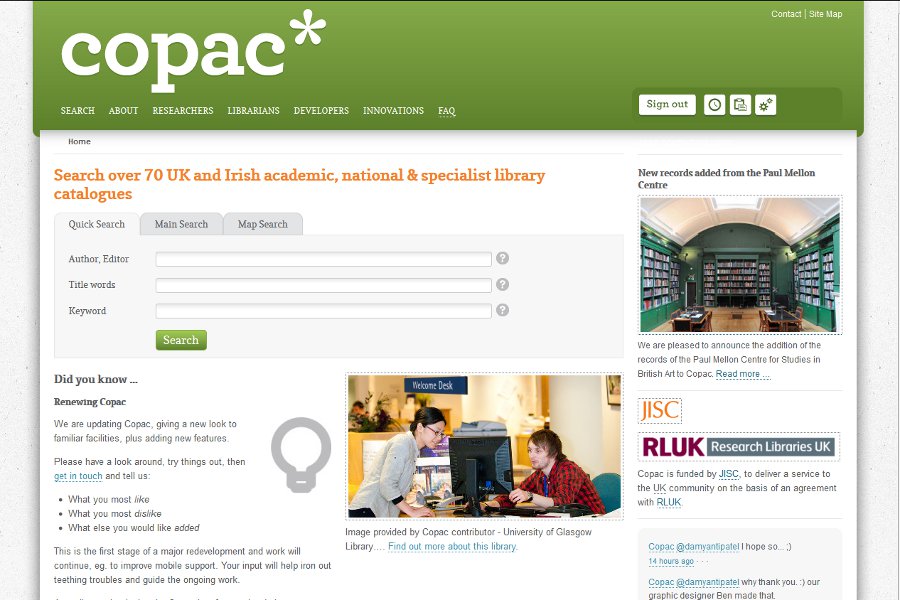 In order to understand and meet the needs of our current user-base (800,000 search sessions per month, and counting) we've also been conducting market research in the form of surveys, focus groups and interviews with our users and stakeholders. We've amassed a lot of knowledge about how Copac is used, its benefit to academics and librarians, the features most valued in the interface, and what we could be doing better (deduplication! Ebook records and access!) We still have a way to go to meet all these needs, and as a service with a 'perpetual beta ethos,' committed to innovation, we know we'll never be 'done' with this work.
But the launch of the new interface and design today is a very significant milestone, and one we want to mark.  These changes are the product of a great deal of committed work to the principles of market research and user-centred design. Thanks to the efforts of Mimas web developers Leigh Morris and Shiraz Anwar, the new application interface positively reflects the real world user-journeys of Copac users, and has been rigorously tested to ensure it's in line with those needs. The new graphic design has been developed to communicate the value proposition of Copac as a JISC service representing Research Libraries, and also as a tool to Research Libraries.  Mimas' new graphic designer has done an excellent job of transforming a site that was out of date, ('lacked depth' and 'cold' I believe are words used) into something more engaging, reflecting the breadth and richness of the libraries that make up Copac.  Certainly, beyond providing an excellent resource discovery experience for end users (and this is why the simplicity and ease of use of the search and personalisation tools are our primary focus) it is important for us to communicate on behalf of JISC that Copac is a community-driven initiative, made possible by its contributors and representative bodies like RLUK. We hope that the new elements of the website represent this community feel, giving Copac a bit more of an engaging voice than perhaps we've previously had.
A big vote of thanks to my fantastic Copac and Mimas colleagues, and particularly those who have worked quite a few late nights and weekends lately: Shirley Cousins, Ashley Sanders, Leigh Morris, Lisa Jeskins, and Beth Ruddock. Thanks to Shiraz Anwar for his work earlier in this project in ensuring every detail of the interface design reflected user needs. Thanks also to Janine Rigby and Lisa Charnock from the Mimas Marketing team for the market research work, and working with us to identify the value proposition and identity of Copac, and to Ben Perry for translating that so swiftly into a design we all instantly agreed on.