Sarah Griffin, Special collections and York Minster Librarian, talks about
the Special collections at the Cathedral and the University.
I was appointed to the post of Special collections and York Minster Librarian in 2010 following a partnership agreement between the University of York and the Chapter of York Minster.  The university provides all library staff, and technological support through the cataloguing and circulation modules of the library management system. In return university users get free access to the Minster library collections, we run induction tours for students and we host seminars for groups using the books.
The Minster library is the largest cathedral library in England holding around 120,000 items. As well as a substantial collection of early printed books, including 130 incunabula, the library has a modern reference and lending collection. The bulk of the historic library is housed in a 13th-century building to the north of the Minster.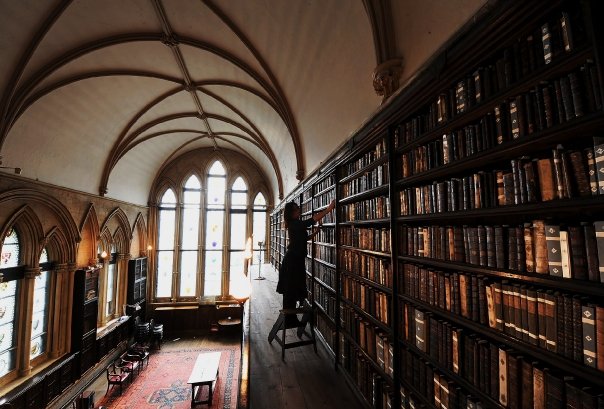 The Upper Hall of the Old Palace. Image courtesy of the Chapter of York.
Cathedrals libraries are known for their broad and diverse collections and York is no exception. Subjects include travel, botany, science, medicine and, of course, theology.  We attract students of medieval studies, church architecture especially stained glass, and church history. My favourite part has to be the Yorkshire collection which was donated in 1890.
It came from Edward Hailstone, a solicitor from Bradford, who thought public libraries were 'spoilators of books' and would not countenance leaving his collection to them. Luckily that meant they came to the Minster where they now occupy a large proportion of our special collections room. They include everything from playbills, to civil war tracts, to children's books, to local printing; the list is endless. Choosing a favourite item is hard as I have a new favourite every week.  However here is a constant much loved item, a commemorative handbill produced by Thomas Gent who set up his printing press on the frozen river Ouse in 1740.
Thomas Gent was a York printer from 1724 until his death in 1778 with a great line in blarney. He wrote an autobiography which is still fantastic reading although best taken with a big pinch of salt. What he was very good at was writing histories of Yorkshire towns. His books on York, Ripon and Hull contain information not found elsewhere and appear to have been based on first hand research and observation. The Minster library has almost all of Gent's publications and would like to complete the collection in the future.
At the Minster I battle against the same things as many rare book librarians, namely looking after a collection in a historic building with all the environmental issues that entails, and achieving objectives with limited resources. In fairness big stone buildings do actually control temperature and humidity fairly well but dust and pest control are on-going problems. We suffer every year from a plague of ladybirds that come into the building through poorly fitting windows and promptly drop dead. It can be very disconcerting for readers to find themselves in the middle of a sea of ladybird corpses!
So that's my first hat dealt with, I am also responsible for the special collections at the university. In the main these are printed books as archives are housed in and curated by the Borthwick Institute for Archives situated on campus. It is a collection of collections, comprising of around 20,000 items. Highlights are the books of Hugo Dyson, one of the Inklings, a group that included JRR Tolkien and C S Lewis; the Raymond Burton Yorkshire Collection; two Yorkshire parish libraries; two provincial medical society collections and much much more. I have got a definite favourite here though. It's a scrapbook from 1819 produced by Laura Hannam.
It was donated to the university on its opening in 1963 but there is no more information than that. However looking at the pictures Laura has drawn it is possible to work out that she must have lived in East Kent, and probably on a farm. The pictures are quite crude but so charming. It sits with a small collection of printed children's books illustrated by Walter Crane, Kate Greenaway, and Randolph Caldecott among others.
The area I probably spend most time on is promotion of the collections within both institutions and also to the wider community in York and further afield. This is done through a combination of exhibitions, talks, tours and the use of social media.  At present I am working on producing a treasures booklet which will showcase the unique and distinctive collections at the Minster, the special collections and the Borthwick.  I am also working with a group of academics from English and History to create an exhibition and events celebrating the 600th anniversary of the Minster library.
I am lucky to work in an institution that places great value on its special collections and with the initiatives of bodies such as RLUK in this area I am looking forward to expanding the reach and scope of the collections I curate.
More information on the Minster collections can be found at http://www.yorkminster.org/treasures-and-collections/historic-collections/library.html
For more information on special collections see http://www.york.ac.uk/library/collections/special-collections/