When we launched the new Copac website in May 2012, we included a small feature as an experimental courtesy. We were occasionally contacted by Copac users to tell us about errors in Copac records, and decided to make this easier for them by introducing a button into each record.
Clicking on this opens up an email to the Copac helpdesk, with all the information we need to identify the item.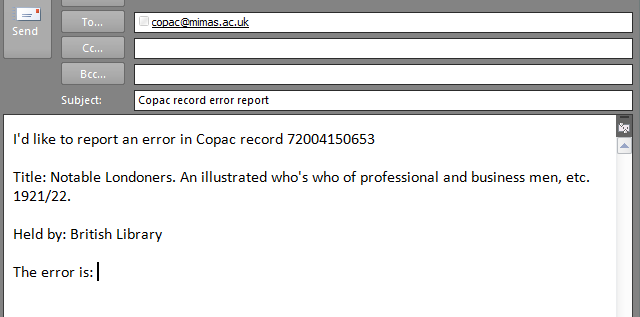 This makes it easier for the user to submit the report, and easier for us to find the error. It removes the need for the user to copy and paste the item url, or tell us what they searched for. And it means that we can quickly and reliably see which item the error is in, instead of having to go back to the user to ask for further details.
Before we introduced this feature, we would get reports of errors in Copac about once a month. We thought that the new button would make it easier for those users, and that we would maybe get around ten times as many reports. We were unprepared for what actually happened.
In a year, we have received over 1000 record error reports. 1054, to be precise, working out at just under 3 a day. For a while after launch, we were getting reports in the double figures every day. This has settled down now, and some days we don't get any at all – but there's still the occasional day when the trickle becomes a flood again, and there seems to be a new error report every time we open the inbox.
Because we weren't expecting such a high volume of reports, we hadn't planned how to deal with them. The Copac helpdesk is staffed on a rota, with staff answering queries a couple of days a week alongside their other work. I'm sure you can imagine the effect this sudden influx of extra queries had, especially as we were just figuring out how to deal with them. We also hadn't warned the contributing libraries about them, and had to hastily email them to warn them to expect the error reports, and ask them to nominate an email address for us to send them to.
Not all record error reports are created equal. A report of a typo in a record held at a single library is quickly dealt with: we email the library, including the error report, and ask them to look at it. As Copac is deduplicated, there is often more than one library mentioned in each record – but each library might not have the error. For instance, where different subjects have been assigned, these are all incorporated into the consolidated record.


If there's an error in one of these, we would need to look through all of the original MARC records to see where the error lies. Some records on Copac might have come from 20 or more MARC records, which can take quite a chunk of time out of your day.
Once we've contacted the library (or libraries), we reply to the reporter to thank them for letting us know, and telling them that we have passed the information on to the library, and any changes they make will be reflected on Copac the next time they send us an update.
This is crucial: the records on Copac remain the property of the contributing libraries, and we don't make any changes to them ourselves. The library with the error will make the change in their local catalogue, and then send us an updated version of the record. This means that not only is Copac being improved, but the local library catalogue, too.
And often this improvement can be quite significant. Fixing a typo in a title can mean that a record which might have been undiscoverable before is now more visible to those who are interested. Copac users also report misattributions (my favourite recently being an anthropology PhD thesis, wrongly credited to Enid Blyton); information about pseudonymynous authors; extra biographical, historical or contextual information; translation or transliteration errors; and information about particular imprints or ownership of rare books.
At the moment we just send this information on to the libraries, where it will usually find its way into the catalogue in some form, but we're definitely considering how we might be able to share some of this rich and valuable information with all Copac users, and the wider scholarly community.
Now that record error reports are an expected part of our workflow, they've become a source of amusement and enlightenment – though you might not believe it if you've heard me groan at the discovery of another ISBN that's been assigned non-uniquely. We really are deeply grateful for users who take the time and make the effort to help improve this valuable bibliographic data for everyone. Just form an orderly queue behind the error button…