We're pleased to announce that the holdings of Middle Temple Library Rare Books and Manuscripts collection are now available to search through Copac.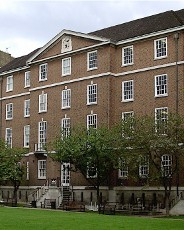 Founded in 1641 by Robert Ashley, Middle Temple library has a very large collection of early printed books (i.e. printed between 1450 and 1800). As Middle Temple is primarily a legal library geared towards practitioners, Copac will be adding the early printed books collection which covers a wide range of subject matter, from astrology to zoology. Middle Temple library holds a number of unique books printed on the Continent, as well as many rare items. In addition, they have the largest holdings of John Donne's own personal library.
To browse, or limit your search to, the holdings of Middle Temple Library, go to the main search tab on copac.ac.uk/search and choose 'Middle Temple Library' from the drop-down list of libraries.