The blog's been silent this week. Ashley's getting on with the practical business of development, and I've been spending time writing up content for my presentation at the International Internet Librarian conference, as well as a presentation to the Mimas Board of Directors on D2D and the future of Copac (more on that next week).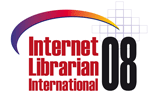 I'm speaking in a panel on "The OPAC and the Library of the Future" at ILI, and writing up my thoughts has been a great opportunity to hash out some of the tensions and challenges surrounding the whole Copac 2.0 thing.   I now think ILI "owns" what I've submitted to them (and it's not available online yet). So to avoid any handslapping (and to echo Austen Powers) "allow myself to quote myself":
As Copac and its stakeholders think strategically about an approach to Web 2.0 and specifically customisation and adaptive personalisation, as I will discuss, multiple issues and tensions emerge. Central among them is striking that delicate balance between 'openness' and 'control.' We want to promote an ethos where Copac data is opened up (via APIs for instance) and made available for the community in as useful form as possible, but we also recognise that this means devolving control over what happens to that data. At the same time, as a collective resource comprising of over 50 UK libraries, we are also considering how Copac is uniquely positioned as an aggregator and can, to use Lorcan Dempsey's phrase: "reinforce the value of network effects," and so increase "gravitational pull" towards a concentrated service that supports UK focussed research. [1]By gathering 'personalisation' or 'intentional' data, Copac (and other JISC bibliographic services) can potentially move to a model where adaptive personalisation is supported, including those desirable Amazon-like recommender functions. We can potentially help to begin to yield that 'long tail' of under-used or little known UK library resources, for example those unique and rare items now incorporated into Copac via the Kew Botanical Gardens, the Natural History Museum, or Royal College of Surgeons.

This, as yet, is a tentative and unformed vision for Copac, a vision we are now attempting to refine and focus. This future for the service is by no means set in stone, and our ideas are very much exploratory at this stage. Copac occupies a single position in a complicated terrain which encompasses the UK resource discovery and library landscape and, of course, the much larger global terrain occupied by WorldCat, Google, Google Books, and Amazon.com. Our strategic planning is necessarily complex. Nonetheless, we are eager to open up conversations about the future of a service like Copac, and at the close of this talk would like to invite feedback and insight over the strategic directions Copac might take, and new questions that emerge.
So that gives you the gist of what I'm planning to talk about, and I am hoping it will be a good opportunity to get some feedback.  In the meantime, any thoughts or comments here are very welcome. Happy friday:-)